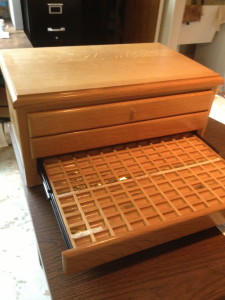 This is a harmonica reed sorting box that I had custom made for me. Three drawers, each drawer has 12 rows of 10 compartments. It makes it very easy to sort and find reeds.
It is made of handcrafted solid oak.
I have decided to let it go. I now use small envelopes to sort reeds and even though it is more of a hassle to find reeds, I want to make my operation as small as possible.
This beautiful piece of is available to anyone who will make me a reasonable offer and come and get it.
You can reach me via email: rrsleigh@gmail.com